Overview | Next
Khitara, Lyra and Auloi
Although the ancient greek had a lot of different instruments. The instruments that meant most for the harmonic teaching was the Khitara, the Lyra and Auloi.
The Khitara was a 8-stringed instrument withoug fingerboard. The strings were plucked with a plectrum.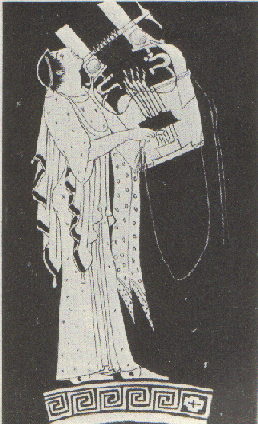 Kithara player. The strings are plucked with a spectrum.
Two lyra players. The body of these instruments were made of a turtoise shield
To lyrespillere. Klangbunden er lavet af skildpade-skjold. På vægen hænger en Khitarra.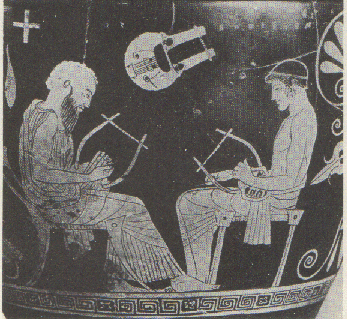 (The Illustrations are from the book Greek Musical Writing, Barker Cambridge)
Auoloi
The auloi was a twin double reed instrument (like the modern oboe), you could change the pitch with your fingers and by changing the distance between the reeds in his mouth.
The auloi was important for the culture, but could not be used as such by the phiolosophers for determining pitch, since the pitch could be changed by how you held the double reed in your mouth.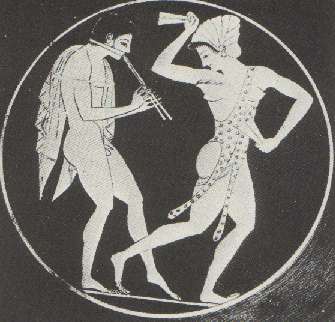 Danser with an aulos player.(The Illustrations are from the book Greek Musical Writing, Barker Cambridge)